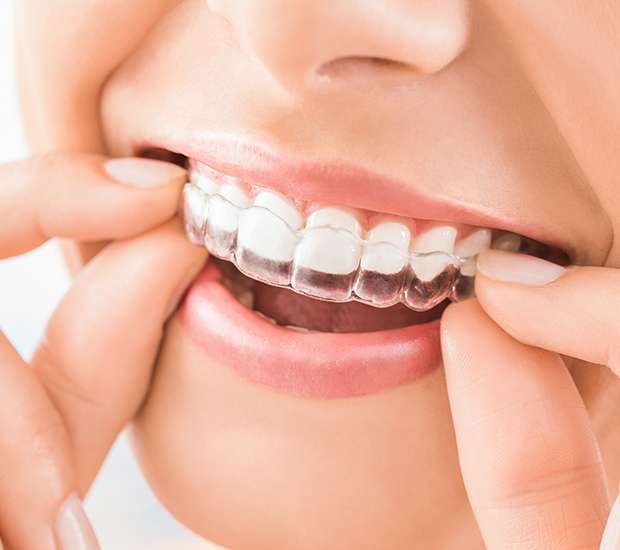 Does Invisalign Really Work
Highlands Ranch, CO
At Colorado Precision Dentistry, we are regularly asked about Invisalign® and how effective it is at straightening teeth. This is an understandable question, because the process of using clear aligners is relatively new in comparison to wearing metal braces. As with any new technology, people often wonder, "Does Invisalign® really work?" and the answer is, yes. If you want a straight and beautiful smile without making it obvious that you are undergoing dental care, this is the best solution for you. As with any procedure, you will need to follow our instructions to ensure that your teeth move correctly and as quickly as possible. For example, aligners need to be worn for around 22 hours a day.
Does Invisalign® Require Special Care?
While removable, you must be careful to keep them in place for as long as possible in order to keep your treatment schedule on track. They need to come out while you eat, so they do not become damaged or warped. You should also remove them when drinking anything hot since that can also warp them. However, as soon as you are done eating and brushing your teeth, the aligners need to be placed back in the mouth.
In our Highlands Ranch, CO dental office, we recommend that you put your aligners in a special container we provide, so they are not accidentally thrown away. Too many people have put their aligners in napkins, only to find that they are gone after lunch. Replacing them quickly is important, so be sure to keep the case with you. You need to keep your trays with you at all times because treatment success is 100 percent dependent on keeping up with the 22 hours of wear each day. If you keep up with the 22 hours a day of wear your teeth will move from crooked to straight in a short period of time.
Does Invisalign® really work for adults?
Yes, Invisalign® was created for adult teeth. While braces are traditionally associated with children, the process of using clear aligners is better suited for adults because if an adult makes the decision that now is the time to create the smile they desire then they are generally going to follow through as instructed. Invisalign® works using a series of clear aligners. Before the treatment starts, a digital impression will be taken of your teeth, along with measurements and pictures. These will then be used to create 3D images which we will review with you in a private consultation. In this consultation, you will be able to see the projected movement of your teeth from start to finish. It is exciting to watch how your teeth will move into the correct bite relationship and smile you have always desired. The entire treatment plan will be created using high-tech computer software and input from our trained doctors. The Invisalign® lab will then make the aligners. Each aligner is designed to move specific teeth and to be worn for two weeks at a time before being switched out for the next one in the series. Since the aligners are created at the beginning of the process, it works best on adult teeth that are fully mature. Some older teens can also benefit from straightening their teeth with Invisalign®.
Does Invisalign® really work for people with a misaligned bite?
At Colorado Precision Dentistry, we use Invisalign® to straighten teeth and to align the bite. It is a misconception that braces are the only way to address an overbite or underbite. While they are traditionally very effective, aligners can correct a bite, as well. In order to find out if this process will work for yours, we recommend that you visit our Highlands Ranch, CO dental office. Call (303) 481-0565 to schedule a free opinion consultation. If after this consultation you decide to move forward, we will make an appointment to collect the necessary records to submit to Invisalign. We can show you in a consultation exactly how your smile can be corrected. If your bite needs more adjustment than what aligners can offer, braces may be necessary or even oral surgery.
Does Invisalign® really work as well as traditional braces?
For the most part, yes. There are some cases where aligners are not able to address all of the issues with the teeth. In such a situation, we will let you know if Invisalign® can work to straighten your teeth or if your treatment requires other treatment considerations. The good news is we have long-standing relationships with a host of excellent specialists to refer you to if that is necessary.
Does Invisalign® really work for people who want to straighten teeth discreetly?
Yes, at Colorado Precision Dentistry, we can supply you with clear aligners that are nearly invisible. They are made of a clear plastic that is durable, yet translucent. Few people will notice that you are straightening your teeth. It can take a few days to get used to wearing them, which could slightly influence your speech patterns. However, once you get used to wearing them, you will generally not have any issues. We usually recommend that you care for your aligners by rinsing them with water, brushing your teeth after eating, and brushing your aligners before putting them back in your mouth. If you want to straighten your teeth discreetly, be sure to exercise caution when cleaning and caring for your aligners. When you visit our Highlands Ranch, CO dental office, we can provide you with additional suggestions for how to take care of them.
Are there any activities that cannot be done while wearing aligners?
You should be able to complete all of your activities while wearing aligners, except for eating and brushing your teeth. You need to take out your aligners while eating a meal, which means that you need to plan for snacking in order to prevent your aligners from coming out too frequently. The same holds true for when you are drinking hot coffee or tea, since the heat can warp the aligners. If you are playing aggressive sports, you may also want to remove them. However, we will make specific recommendations after discussing the sports you play or any other activities you engage in.
How do I get started with Invisalign®?
Call 303-481-0565 and schedule a consultation with Dr. Bailey and Dr. Leyva.
Questions Answered on This Page
People Also Ask
Definition of Invisalign® Terminology
Aligner Trays

With Invisalign® treatment, the patient will receive a series of aligner trays and swap out each one for the next one in the series every two weeks in order to gradually straighten the teeth.

Blue Compliance Indicator (Invisalign® Teen)

The blue compliance indicator is a small blue dot on the aligners that will fade from blue to clear in order to indicate if the patient is wearing the aligner for the proper amount of time and where the patient is in the Invisalign® process.

ClinCheck® Software

ClinCheck® software allows professionals to map out the straightening process the patient's teeth will go through with Invisalign® in great detail.

Gum Line

The gum line is the line in the mouth where the teeth and gums meet. If a patient struggles with gum recession, then the gum tissue around the teeth may begin to wear away.

Incisal Ridges

Incisal ridges are the portion of the crown of the tooth that makes up the incisal portion and can be a direct cause of overbite if they are extended too far.

iTero Element® Scanner

An iTero Element® scanner allows professionals to create a 3D image of the patient's teeth in minutes and predict what it will take to move the teeth into proper alignment.

Malocclusion

Malocclusion is the condition in which the upper and lower teeth do not meet properly when the bite is closed. Conditions of malocclusion can include overbite, underbite, crossbite and open bite; all of which are treatable with Invisalign®.

Overbite

An overbite is a type of malocclusion that occurs when the upper teeth jut out over the lower teeth, covering them and causing other issues.

Polyurethane Resin

Polyurethane Resin is a USP Class VI medical grade, high molecular weight compound that makes up the Invisalign® aligners.

SmartForce Attachments

SmartForce attachments are small attachments that professionals place on the patient's teeth before placing aligners to help move the teeth.

Smart Track® Material

Smart Track® material is in Invisalign® aligners to increase comfort, improve control of movement, increases the speed of treatment and applies a gentle force to the teeth over time.

Smile-Scan

Smile-Scan analyzes the way a patient smiles by measuring the position of the mouth and eyes before giving a score.

Vivera® Retainers

Vivera® retainers are a type of retainer that consists of clear plastic material and helps to maintain orthodontic corrections after a treatment.
Back to top of Does Invisalign® really work?
Related Posts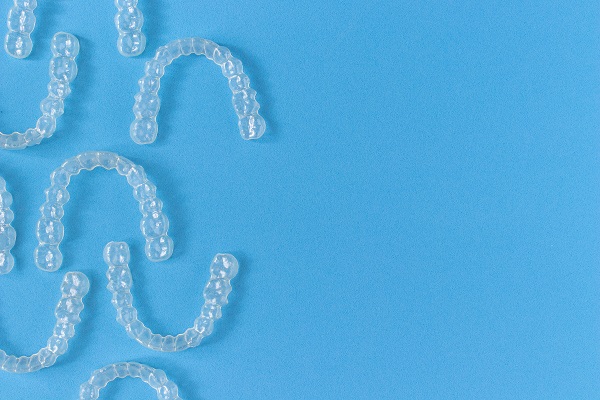 Finding the right Invisalign® dentist for you can be difficult, and it can be helpful to know useful tips for how to do so effectively. From knowing the proper way to search online to talking to friends and family members, there are many useful tips to ensure you are able to find a reputable Invisalign®…
Explore additional topics covered on our website: