About Us
Colorado Precision Dentistry & Orthodontics is a Highlands Ranch based family dentist practice that treats patients of all ages. We are committed to delivering the highest quality dental care and do so using advanced dental equipment. We are a cosmetic dentist that offers services like checkups, teeth cleaning, crowns, veneers and more.
---
We also perform emergency dentist services that include bonding, root canals, crowns, and bridges. As a local dentist, we create lifelong relationships with our patients and their families and work to ensure that they receive treatments in a comfortable and relaxed environment. Dr. Bailey and our staff invite you to schedule an appointment by calling 303-481-0565 and experience why our patients think Colorado Precision Dentistry & Orthodontics is the best dentist in Highlands Ranch.
---
Meet The Doctors
---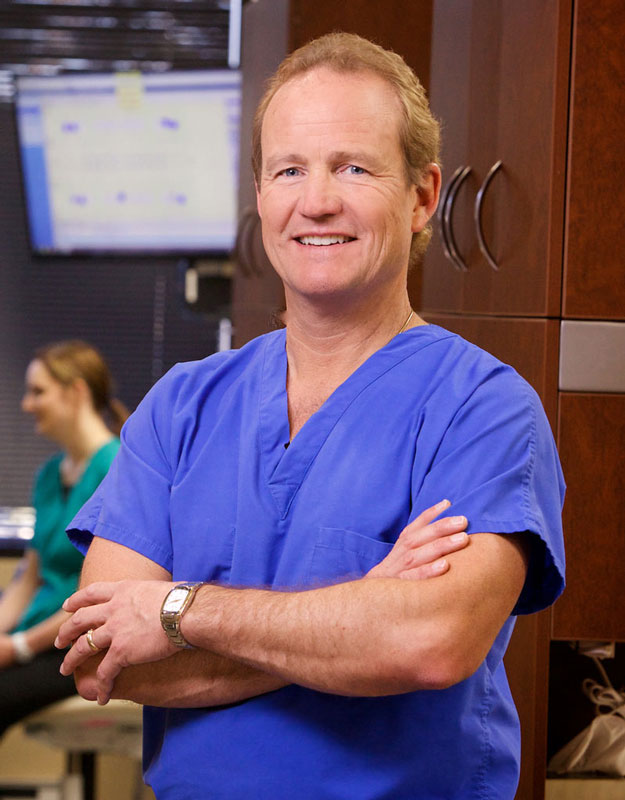 Dr. Brent D. Bailey D.D.S.
Dr. Bailey has been practicing in Highlands Ranch, Colorado since 1984. He is a graduate of the University of Michigan School of Dentistry. His love for his profession is part of his family's history, as his father was a dentist and two of his brothers are practicing dentists in Michigan.
Dr. Bailey is a continual student in the art and science of dentistry. Because of Dr. Bailey's advanced work in modern restorative techniques, he was personally requested by the founder of the world's most prestigious independent dental research group, Clinical Research Associates, to be an "Evaluator" of current technologies for this organization; Clinical Research Associates. He has now served, without compensation, in this non-profit organization for more than a decade.
Brent is a committed Christian and a dedicated family man. He believes sound physical, emotional, and spiritual health all contribute to our enjoyment of life. Brent enjoys a host of activities including running, biking, skiing and photography. He loves the outdoors and enjoys spending time with family and friends in the beautiful state of Colorado.
You will enjoy Dr. Bailey for his personal caring as well as his obvious pursuit of excellence. He never stops short of providing his best for every patient and we believe this is the primary reason patients come from throughout the United States to seek care in his office.
Dr. Christopher R. Gipple D.D.S.
Dr. Gipple is a Des Moines, Iowa native who moved to Colorado with his wife, Kaitlyn, in June of 2016. After completing his undergraduate studies in Health Science and Biology at Truman State University, Dr. Gipple attended Creighton University School of Dentistry. Since there were no graduate specialty programs at Creighton, he developed valuable training and experience in areas of dentistry that most other schools reserve for graduate specialty residents – oral surgery, dental implant placement and restoration, and endodontics (root canals). During dental school, Dr. Gipple traveled to the Rosebud Indian Reservation in Lakota, SD to provide free dental care to children and adults who otherwise would not receive care. While there, he developed a much greater sense of empathy which he brings to each patient he sees. Dr. Gipple's sincere, calming, yet confident nature allows patients to know they will receive the best of care in all regards.
Dr. Gipple is dedicated to lifelong learning through ongoing continuing education, so he can deliver knowledgeable care, and with Colorado Precision Dentistry and Orthodontics' state-of-the-art facility you will always know you are in good hands. Dr. Gipple has undergone advanced training in botulinum toxin and dermal fillers from the American Academy of Facial Esthetics. This allows him to offer his patients facial esthetic services, as well as treatment for headaches, bruxism, and TMJ issues. Dr. Gipple is a member of various dental organizations including the American Dental Association, the Colorado Dental Association, the Metro Denver Dental Society, the Academy of General Dentistry, and the American Academy of Facial Esthetics. His philosophy of care is patient-centered – he focuses on individual relationships with patients, not just their teeth. Dr. Gipple's mission is to provide such great care to his patients that they simply won't want to go anywhere else.
Outside of dentistry, Chris is thrilled to be able to experience God's creation through the abundance of outdoor activities available in Colorado, since some of his favorite hobbies include hiking, camping, skiing, kayaking, fishing, and photography. When Chris is not enjoying the great outdoors, he can be found playing the guitar and piano, board games, and cheering on the Broncos.
Dr. Gipple looks forward to meeting you and being able to provide you with personal, comfortable and exceptional dental care!
About The Staff
---
One of the biggest keys to optimal results in a dental practice is the staff. High turnover in any business indicates an internal problem and turnover in a professional setting should be a primary concern of every client. The staff and doctor have to be an efficient team to ensure consistent, high quality results. Despite previous dental experience, it takes several years to get a single staff member to be a fully efficient member of an advanced team. The majority of Dr. Bailey's staff have been with him more than 15 years. Many things go into providing our patients with the very best health care, one of which is the staff, and our staff consists of the finest, most caring and highly skilled dental care technicians available in this field.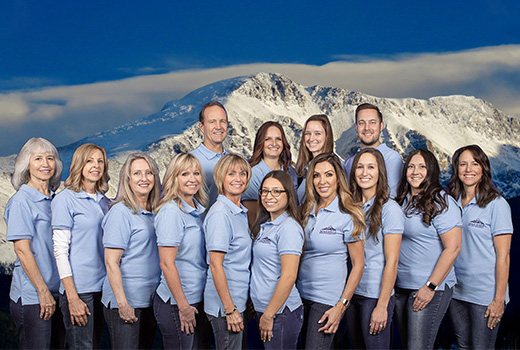 Our patients know that when they return to our practice they will be greeted by the same people they have come to trust through the years. The staff is dedicated to the care and vision that Dr. Bailey pursues and they are proud of the service they provide. In a portion of a recent letter to his staff Dr. Bailey wrote:
Hello All,
While making phone calls to patients after treatment I often hear many great comments about how they have never been to an office where everyone was so friendly, helpful, professional, and efficient. I had one more lengthy conversation recently where I expressed my sincere belief in each one of you as individuals. I explained that it is my desire in our office setting for each of you to get to be you. I want you to be you because it's you that makes us special. It truly is a great feeling knowing that people are taken great care of because that is your giftedness and your nature to do so. I am very grateful to you, and for you."
- Doc B.
Dr. Bailey believes that success in dentistry is based on putting the patient first, in all ways, and to do this you have to have a talented, happy staff who are proud of where they work and enjoy what they do. We know you will experience just this in our office.
Being The Best Is A Team Effort!
---